Power Pallet Truck
We are enlisted amongst the prominent names in the industry engaged in manufacturing and supplying quality tested range of Power Pallet Trucks. Our products are available with different technical specifications and are used in warehousing facility to carry products from one end to another. These are available with attached castors for easy movements. Fabricated utilizing quality approved components, Power Pallet Trucks are acclaimed for durable standards.
Heavy Duty Power Pallet Truck
We are Largest of the leading manufacturers and suppliers of a wide range of Heavy Duty Power Pallet Trucks Our range is manufactured using premium quality raw materials and is extensively used in various industries.
HK / WP LPT 20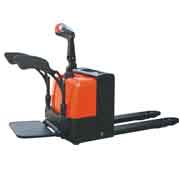 Features
1.2
Type No.
HK / WP-LPT20
1.3
Power (electric, diesel, gasoline, liquefied petroleum gas)
Electric
1.4
Driving mode (hand, pedestrian, stand-on, sit-down, unit-pick)
Pedestrian
1.5
Rated loading capacity
kg
2000 \ 2200
1.6
Load centre distancec (mm)
mm
600
1.8
Front overhang distanceX
mm
963/1033
1.9
TrackY
mm
1368
Weight
2.1
Weight (with accumulator)
kg
520
2.2
Axle load at full loadDrive side/load side
kg
1040/1480
2.3
Axle load without loadingDrive side/load side
kg
405/115
wgeel
3.1
Tires (rubber wheels, high-performance elastomer, Pneumatic wheels, polyurethane wheels)
polyurethane wheels
3.2
Tyre size, drive side
mm
?230x75
3.3
Tyre size, load side
mm
?84x70/?74x70*
3.4
Dimension of steering wheel
?100x40
3.5
Wheel numbers (X=driving wheel) Drive side/load side
1x +2/ 2/1x +2/ 4
3.6
Wheel track (front)Drive side b10
mm
500
3.7
Wheel track (back)load side b11
mm
380/525
Dimension
4.4
Lift heighth3
mm
120
4.9
Height of lever in middle positionh14
mm
1323
4.15
Height of fork when being lowered h13
mm
85/75
4.19
Overall length l1
mm
1815/1885
4.20
Length of truck bodyl2
mm
665
4.21
Width of truck bodyb1
mm

726

4.22
Fork dimensions/e/l
mm
60/160/1150(1220)
4.25
Lateral distance of forkb5
mm
540/685
4.32
Distance from wheel base centre to groundm2
mm
25
4.34
Right angle stacking aisle width, pallet 800X1200 (1200 placed along fork)Ast
mm
2305/2344
4.35
Turning radiusWa
mm
1640/1710
Capability
5.1
Driving speedfull load/ no load
km/h
5.0 / 5.2
5.2
Lifting speedfull load/ no load
mm/s
27 / 35
5.3
Lowering speed full load/ no load
mm/s
42 / 27
5.8
Climbing capacity full load/no load
%
10/16
5.10
Parking brake
Electromagnetic brake
Motor
6.1
Drive motor power kw
kW
1.5
6.2
Lift motor power kw
kW
0.8
6.3
Accumulator, U.K. BS standard, no
3VBS
6.4
Voltage of accumulator, capacity (discharge rate5 hours)
V/Ah
24 / 210
6.5
Accumulator weight (+/-5%)
kg
185
Battery dimension, length X width X height
mm
645 / 196 / 570
Others
8.1
Driving and control methods
FET control
8.4
Noise heard by the driver
dB(A)
<70
Turning angle
°
180